(@disqus flaw?) Hmmm…I just made a post on a blog that uses Disqus and I logged into Twitter to comment. To my surprise, my photo wasn't me at all!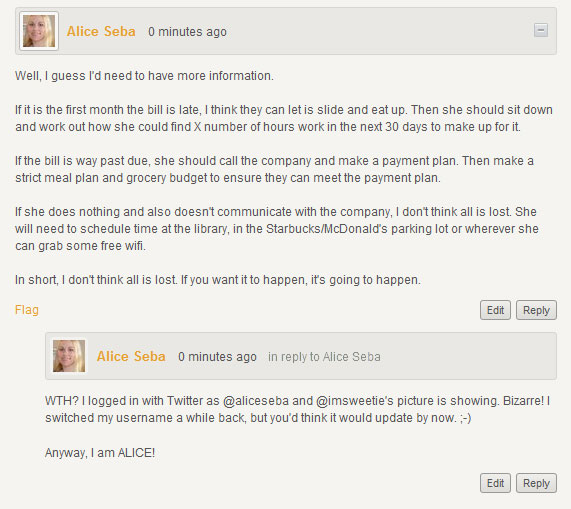 About a year ago , I changed my username from @imsweetie to @aliceseba, but in the time I've been @aliceseba,, I've never had that profile picture.Why would I? It's not a picture of me!
Why doesn't Disqus take your current profile picture? And how do they go back to an old profile picture that was never part of my @aliceseba account at all? Curioser and curioser.
Added to clarify how this picture was never in my account: My account used to have the @imsweetie name. About 1 year ago, changed my name to @aliceseba.com and claimed the @imsweetie name through another, completely different, account. I then let Melissa Ingold (pictured above) access to the @imsweetie account and at some point, she added that picture. That picture was NEVER in the account I am currently using, under the @aliceseba or @imsweetie name.
Comments
comments